Fairytales: its iconography, archetypes, themes, and messages still play a part in modern films, art, and literature after centuries of evolution, its roots anchored deep in societal consciousness. Beginning as a game of Chinese Whispers across Europe, it was marked down by the writers of the Renaissance but became complete and popular by The Brothers Grimm  (as well as Charles Perrault and then later by Hans Christian Andersen) who had an academic approach to recording folk tales as skilled linguists, lexicographers, and authors. Through them, the circulatory stories of the 16th and 17th century had become solidified. In Grimm's Fairy Tales over 200 tales became published and were inordinately sought after. During the 1800's the rise of Romanticism encouraged a revival in folk stories and represented a pure form of romantic national literature.
As the trend moved into the Edwardian era and the 'Golden Era of Illustration' began as high quality illustrated editions became extremely popular as Christmas presents. New printing technologies allowed more vibrant colours and lavish detail. One of the most prominent illustrators was Arthur Rackham (deluxe first edition of Arthur Rackham's Rip Van Winkle, published in 1905 shown below). His technicality and characteristics are used today – most notably in Pan's Labyrinth by Guillermo Del Toro. As World War One began to unfold the public lost interest in fairytales; that is till after World War Two, when Walt Disney released his first feature-length film.
In 1937 Walt Disney's Snow White and the Seven Dwarves was released, starting a legacy of fairytale films and 'Disney Princess' films. While beautiful, colourful and a testament to the art of animation, the new child-friendly films changed public perception of fairytales. The fluffy-tailed animals and the joyous chorus removes the foreboding German forests, the ambiguous characters and the elements of the mythic journey of adolescence into adulthood. The Disney fairytales had the good vs. the evil meta-narrative and simplified even further – with outward appearance reflecting inward benevolence. In particular, the female characters became historically beautiful but also complicit; their worth based on their beauty rather than personality and resolve, they don't have an active role in their journey. A princess became a commodity; this would later show a feminist backlash to stereotypes (which will be discussed later.)
However, in 1970 Six Fairy Tales from the Brothers Grimm with illustrations by David Hockney was published by the British Royal Academy of the Arts. Hockney gives interesting, flat, black and white illustrations, a direct contrast to the style of Arthur Rackham and others like him; rather than using a plateful of colours and minutia, his acute flatness and his use of line return the Grimm tales to their true ugliness. His princesses are plain and transparent, his lucid style and use of empty space allows thought to roam free, exploring the original themes of the story.
As the second half of the century continued,  English author Angela Carter began subverting the fairytale genre. The Bloody Chamber was a collection of short fiction that all had a folkloric link, written in a pastiche of the Gothic and actively subverts both genres and writes in complex paradoxes, in both her settings and characters. The Bloody Chamber re-invented a genre with its original opaque centre. This handbook of subversion has a tenacious link to artist Kiki Smith, who uses fairytales to question gender stereotypes, much like Carter.
Kiki Smith used mainly sculpture, prints, and painting to explore her fascination with Little Red Riding Hood, drawing on different interpretations from the 17th-century folk tale, the 19th century written narrative, as well as feminist literature. Rapture (left) shows a woman rising out of wolf's body, linking it to one of the older versions of the tale where Red Riding Hood cuts her way out of his stomach after being eaten. With visceral overtones and implications of rebirth and salvation, Smith's grotesquely biblical sculpture melds power and femininity.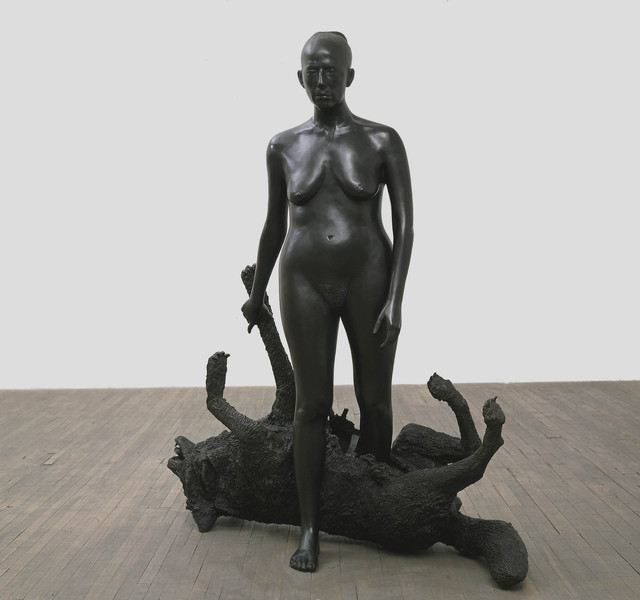 The move into the 2010's witnessed a revival in fairytales – Disney released more gritty live-action remakes (Snow White and the Huntsman and Maleficent) as well as new animated classics (Frozen, Tangled, and The Princess and the Frog) as well as  TV shows (Once Upon a Time and Grimm). In terms of art, fairytales entered the realm of couture with fashion photographer Tim Walker and continued to be a tool to break stereotypes by photographer and artist Uldus Bakhtiozina in her art project Russ Land. Using Russian folklore her ornate costumes and use of nostalgic film photography brings fairy tales into the 21st century; a la mode and enigmatic she challenges stereotypes – much similar to Kiki Smith.
Over the 400 year history of fairy tales, it seems they have been dichotomised into the family film and then the artistic spunk, belligerent in resembling the Chinese box that is fairytale stories.